The File Encryption Software
Home > Products > Screenshots / How to > Delete file securely
"With the use of increasingly sophisticated encryption, an attacker wishing to gain access to an organization's sensitive information is forced to look outside the system itself for that information.
One avenue of attack is the recovery of supposedly deleted data from media.
These residual data may allow unauthorized individuals to reconstruct data and thereby gain
access to sensitive information.
Sanitization can be used to thwart this attack by ensuring that deleted data cannot be easily recovered.
When storage media are transferred, become obsolete, or are no longer usable or required by an information system, it is important to ensure that residual magnetic, optical, electrical, or other representation of data that has been deleted is not easily recoverable.
Sanitization refers to the general process of removing data from storage media, such that there is reasonable assurance that the data may not be easily retrieved and reconstructed.". NIST Special Publication 800-88. "Guidelines for Media Sanitization. Recommendations of the National Institute of Standards and Technology" .
How AEP PRO can securely delete my files?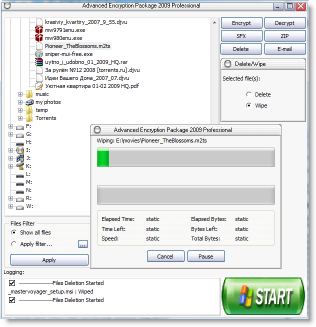 AEP file encryption software has special module to delete sensitive files securely.
The program uses all known Wipe Algorithms to shred your data: Peter Gutmann algorithm, U.S. DoD 5200.28-STD, VSITR, German Standard, Bruce Schneier algorithm, NATO Data Destruction Standard, GOST P50739-95 Russian Standard, NCSC-TG-025, The National Computer Security Center Standard, U.S. DoD 5200.28-M, RCMP TSSIT OPS-II, Canadian Standard, NAVSO P-5239-26, US Navy Standard, AFSSI-5020, US Air-Force Standard, AR380-19, US Army Standard, HMG Infosec 5, PRNG Stream Wipe, Quick Wipe algorithm.
AEP not just overwrites file by random data. It finds all data parts on your hard drive: the tip of last cluster of file, record in File Allocation Table (for FAT) and Master File Table (in NTFS), it erases alternate file streams on NTFS and recognizes compressed and encrypted files on NTFS.
The Secure Deletion algorithm settings are changed in the Options window of the main program.
After configuring, you can sanitanize your files from Windows Explorer context menu or directly from AEP PRO.
Also you can perform this task from command line tool.

Complete protection offer
Self Defence Package
3 product bundle (CD Encryption + USB Encryption + File Encryption + Drive Encryption) at a special price
Compatilbe with Windows 10
"Compatible with Windows® 10" software

Advanced Encryption Package has been tested to meet all of the technical requirements to be Compatible with Windows® 10.
Great tool to help make things just a little easier
Advanced Encryption Package Professional is a tool that can ease some of the pain of working with encrypted messages and files.


SnapFiles has awarded AEP PRO by VERY GOOD award!