The File Encryption Software
Home > Products > Screenshots / How to > Integration with Windows
Advanced Encryption Package adds new features to the context menu of Windows Explorer. As you can see on this screenshot, context menu has new menu item AEP and some subitems under this item: Encrypt, Decrypt, Create Self-Extracting File, Wipe.
Encryption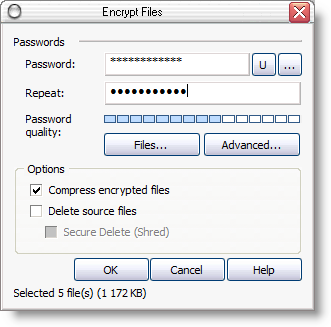 When encrypting, AEP provides this simple password dialog. It is required to enter encryption password before continue. Other options are optional.
It is also possible to click Advanced... button to change encryption mode (symmetric or asymmetric), encryption algorithm (AES, Blowfish, Twofish, ...) and etc.
Moreover it is possible to load encryption key from connected USB stick by clicking U button or create new unique encryption key (even using non-printable binary symbols) using Virtual Keyboard window. It is called when clicking ... button.
Files can be compressed before encryption. It greatly reduces file size. AEP skips files that cannot be compressed automatically (like WinZip, WinRAR arhives and etc).
Source files can be deleted after successful encryption. In addition, you can securely delete these files/folders. The wipe algorithm is configured in main program, not here.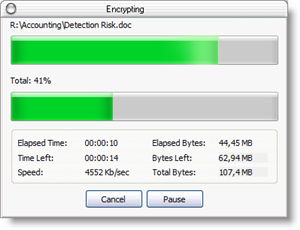 The encryption process can be abandoned or suspended.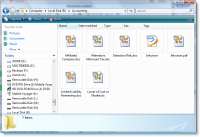 Now this folder contains encrypted versions of files. These files can be safely sent via internet.
Decryption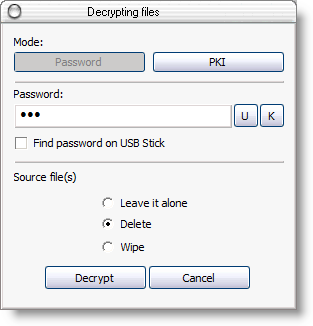 The decryption process is simple.
Just select encrypted files in Windows Explorer, then choose Decrypt command from context menu.
Now, you can enter password to decrypt your documents or switch to the PKI mode, when another password is used to decrypt data (PKI encryption uses two different keys - for encryption and for decryption, The encryption key cannot be used for decryption and vice versa).
Alternatively, you can load decryption key from USB stick by clicking U button, or enter key using Virtual Keyboard by clicking K button.
And the most reliable option is to check Find password on USB stick box. In this last case the program will automatically enumerate all decryption keys on USB, then it will try each key to decrypt every file.
Delete Files Securely
AEP File Encryption Software has ability to delete files securely, i.e. without ability of recovering. AEP uses about 20 different methods to delete data. Just select files in Windows Explorer, then choose Wipe command in the AEP context menu.
Usually, it is recommended to use this function to securely delete own temporary files on another computer.
Complete protection offer
Self Defence Package
3 product bundle (CD Encryption + USB Encryption + File Encryption + Drive Encryption) at a special price
Compatilbe with Windows 10
"Compatible with Windows® 10" software

Advanced Encryption Package has been tested to meet all of the technical requirements to be Compatible with Windows® 10.
Great tool to help make things just a little easier
Advanced Encryption Package Professional is a tool that can ease some of the pain of working with encrypted messages and files.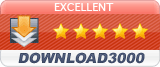 DOWNLOAD3000.com site has awarded AEP PRO by 5 stars award!