The File Encryption Software
Encryption Software - File encryption, Secure File Transfer, Batch File Encryption and Encrypted Backups
Advanced Encryption Package 2013 Professional - award-winning easy-to-use file encryption software for Windows(r) 8, 7, Vista, XP.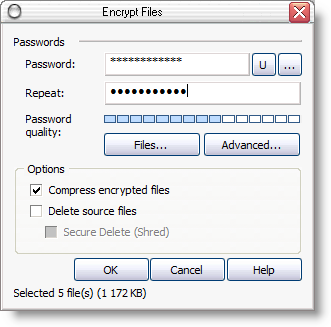 Easy to use for novices. It integrates nicely with Windows Explorer and made easy for novices.
Strong and proven algorithms to protect your sensitive documents (20 encryption algorithms).
File and/or text encryption.
Symmetric and asymmetric algorithms (17 data destruction algorithms).
Secure file deletion.
Using USB flash drives to store [en]-decryption keys.
Creating encrypted self-extracting file to send it as email attachement. No additional software is required on other end!
Complete command line support to fully automate [en]-decryption tasks.




Why Advanced Encryption Package Pro?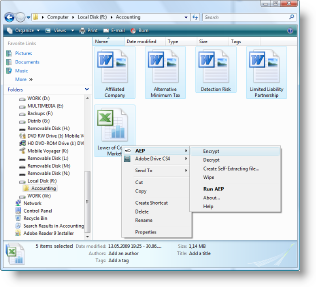 We have been developing and improving Advanced Encryption Package for many years (the first version was released in 1998).
In these years we've implemented hundreds of improvements suggested by thousands of our customers from around the world (aep pro is used in 80 countries) and now, Advanced Encryption Package 2012 Professional is one of the most feature rich file encryption software for Windows 7, Vista, XP, 2003, 2000.

Download AEP PRO and start protecting confidential files today! Try free for 30 days.
The most recent version is 5.87, built on November 28, 2013. Download size: 5.9MB
What's new in AEP PRO 5.87?
Complete protection offer
Self Defence Package
3 product bundle (CD Encryption + USB Encryption + File Encryption + Drive Encryption) at a special price
Compatilbe with Windows 7
"Compatible with Windows® 7" software

Advanced Encryption Package Pro has been tested to meet all of the technical requirements to be Compatible with Windows® 7.

Great tool to help make things just a little easier
Advanced Encryption Package Professional is a tool that can ease some of the pain of working with encrypted messages and files.