The File Encryption Software
Home > Support > Uninstall Feedback
Thank you for trying Advanced Encryption Package!
We would be grateful for feedback on your reason for un-installing Advanced Encryption Package. Please spend a few moments to let us know.
Your answers will help us to further improve our product.
Why do you uninstall Advanced Encryption Package ?
Complete protection offer
Self Defence Package
3 product bundle (CD Encryption + USB Encryption + File Encryption + Drive Encryption) at a special price
Compatilbe with Windows 10
"Compatible with Windows® 10" software

Advanced Encryption Package has been tested to meet all of the technical requirements to be Compatible with Windows® 10.
Great tool to help make things just a little easier
Advanced Encryption Package Professional is a tool that can ease some of the pain of working with encrypted messages and files.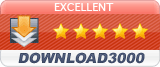 DOWNLOAD3000.com site has awarded AEP PRO by 5 stars award!